"The 18 famous tea trees praised by Emperor Qianlong
are here in my home, in Shi Feng.
People think those trees must have the best microclimate, but my tea plants
are on the slope above these famous trees. The higher elevation, the mist
and the mountain spring water make them
even better than Qianlong's bushes.
Our whole region is protected from pollution –
organic farming is not just our value, it is our law.
I hand pick every leaf with my two sisters,
and my husband hand finishes each small batch.
I share my tea to fight against the fakes – against West Lake Dragonwell
and other unclean regions – and to show the world what my home is capable of producing."
– Li Xiaoping // 李小平
Our Home: Shi Feng, Longjing Village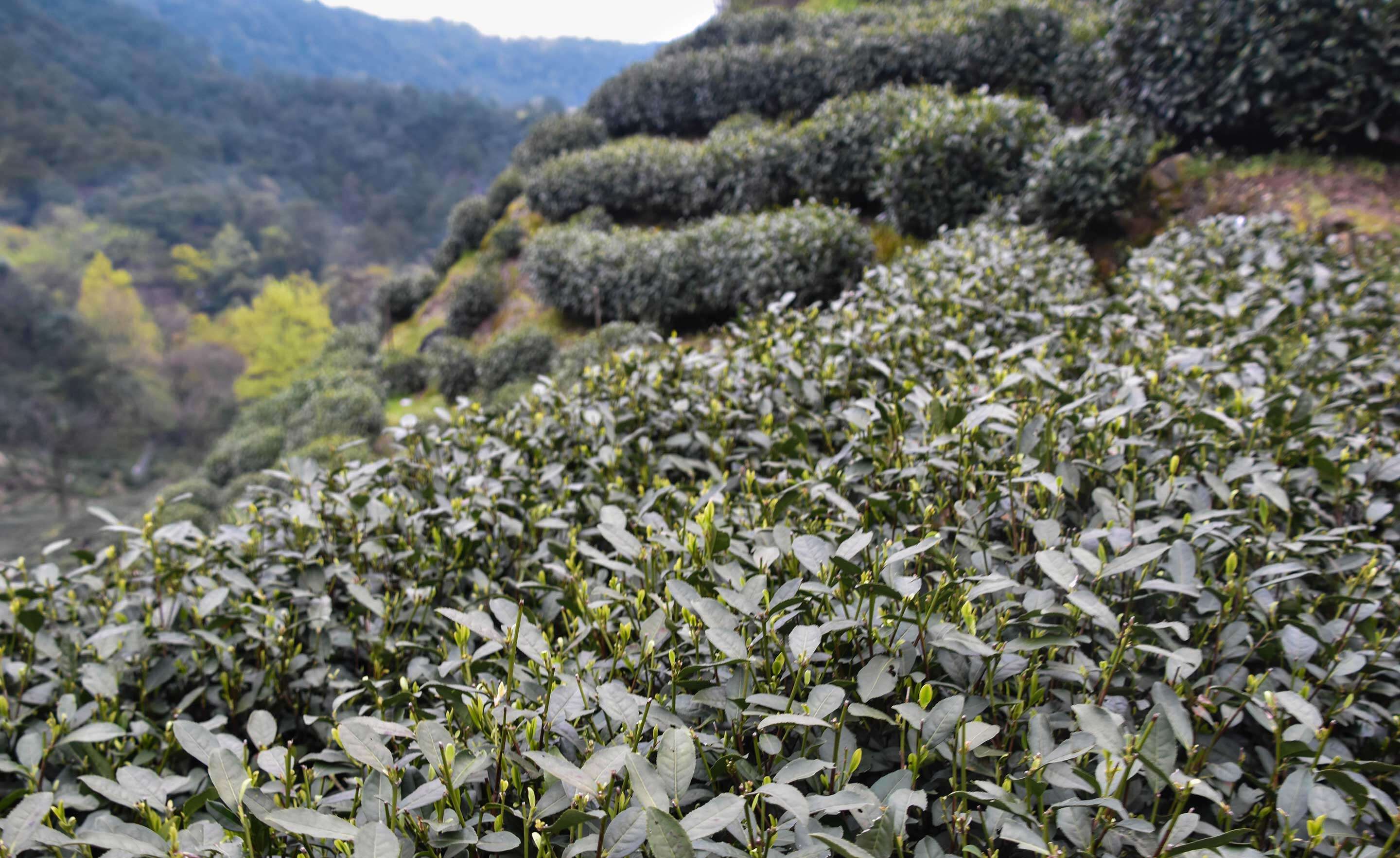 a ring of mountain peaks
create a protected microclimate
famous for hundreds of years
as the best tea region in China
spring-fed old-growth tea plantings
that are a mountain climb from the nearest road
quartz-heavy rocky soil for deep texture
protected from development and pollution
as a national heritage site
beyond organic farming
throughout the village
About Us: Li Xiaoping and Shui Huamin
Li Xiaoping inherited some of the finest plants on Shi Feng from her father.
Decades ago, her father was recognized by the party for his work in bringing a higher standard of craft to the village and introducing objective tasting standards for judging quality of green tea throughout Zhejiang. Mrs. Li remembers following her father around the fields and learning from him since age five.
She and her husband have a daughter and granddaughter that they hope will someday run the family farm. Both Mrs. Li and Shui Huamin consider themselves semi-retired, having put their daughter through college through their labor in tea.
At this point, their goal is to share true Shi Feng Dragonwell beyond Zhejiang and beyond China, fighting against the countless fakes out there with quality and honesty. They hope that by making real Dragonwell truly accessible, they can work to raise the standards worldwide for green tea and leave a lasting legacy.
Li Xiaoping has not only continued her father's work with classic Dragonwell, but has pioneered onward with new #43 varietal tea bushes and even hand-finished black tea, pushing back against the weight of tradition.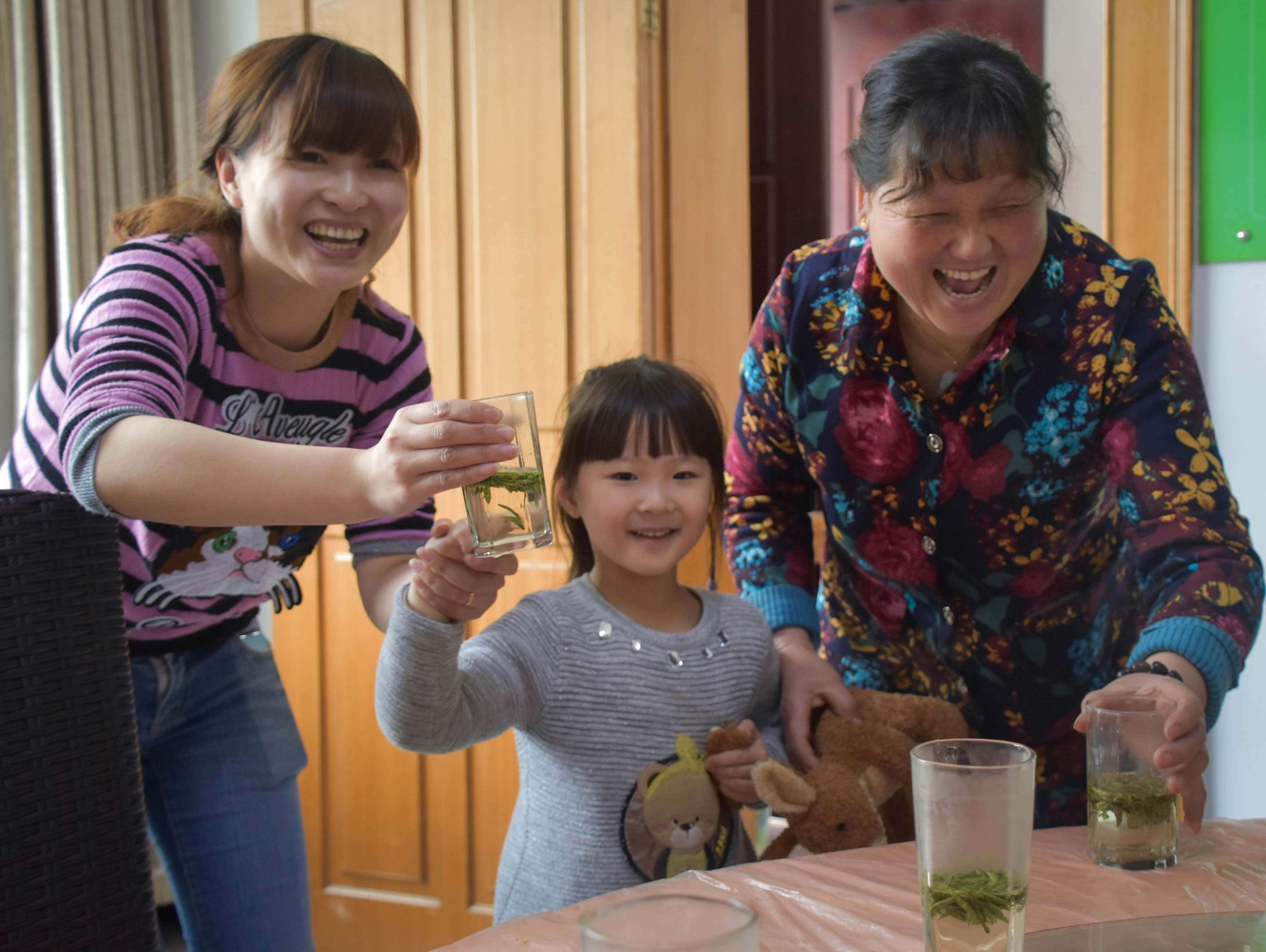 We share only the finest
and the freshest each year.
While many farms throughout Zhejiang pick through summer and autumn, we believe in only harvesting the sweetest and most delicate buds over a short and very busy picking time in the early spring.
We drink our own tea all day and every day.
We brew our tea for our daughter and granddaughter –
above all, we work to make tea healthy and pure.
We practice organic farming, and we even wild-pick on the higher peaks of Shi Feng.
We finish our teas delicately with low heat to lock in their flavor, and we let the plants rest through the year to replenish the soil and roots. We only pick buds, not leaves, because they are packed with the most flavor, texture, aroma and nutrients.
Because of all this, our tea that tastes like our home.
We welcome you to enjoy our tea
and experience the famous beauty of Dragonwell!
So many importers are fooled by fake Dragonwell. They market unhealthy low-elevation West Lake Dragonwell as true Shi Feng Dragonwell.
These imitations do not share the stories of the farmers.
We've been working with Verdant Tea for a decade as their oldest partners, and we make sure to make videos together when we drink tea together so that you know these are our teas, not just marketing.
Ready to try our tea?
Save 10% on any tea in our Dragonwell tea collection when you use the special coupon code below in your cart or at checkout through our international partner, Verdant Tea.
SHIFENG10
Thank you for you kind support!