"Laoshan is unlike any other tea region on earth.
Our farm sits at sea level, protected from the sun by the ocean mist
that rolls up the slopes of the steep Laoshan mountainsides. Our parents began
cultivating tea in this village sixty years ago and started the right way with
organic farming & respect for the ecosystem of our Taoist holy mountain.
We hand pick every leaf and hand-finish our tea in small batches.
We hope you'll taste for yourself to understand what makes our family's tea
from the northernmost tea region in China so unique."
– He Changke // 何昌科
Our Home: Laoshan Village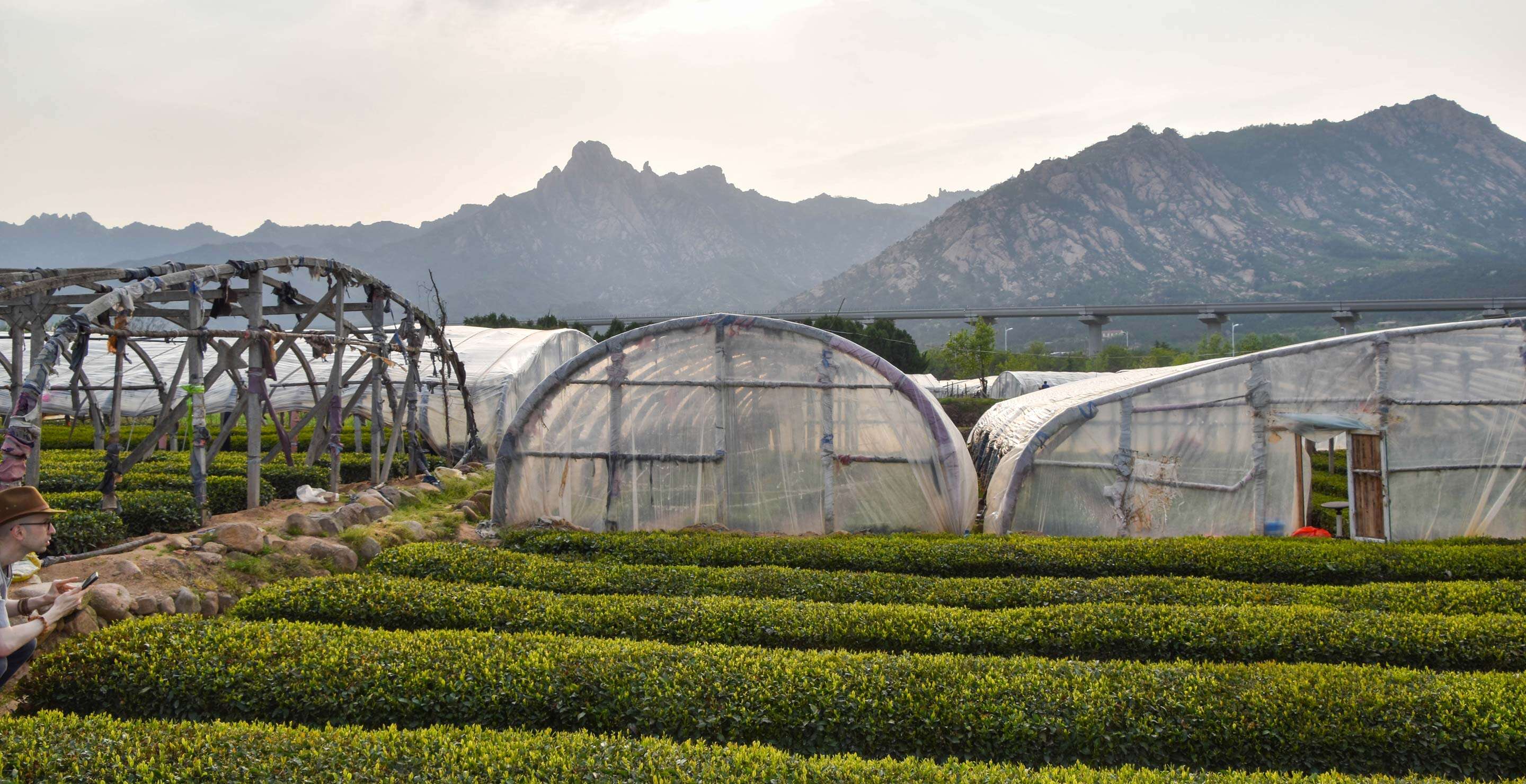 tea plants nurtured
by famous mountain springs
the coldest tea climate in China
produces sweet teas
rocky soil produces mineral-driven texture
shaded 3-layer greenhouses
protect early spring leaves
protected National Forest land
for clean air and water
biodynamic farming
for healthy plants and people
He Changke is a proud 2nd generation tea farmer.
His father was one of the first people to plant tea in the village outside of the Taoist monastery, pioneering organic farming with a vision of making Laoshan the most famous tea microclimate in China. Mr. He is passing on his father's work to his daughter He Qingqing, co-owner of importer Verdant Tea.
Qingqing and her parents have worked together to not only improve the craft of the region, but invent entirely new tea types to bring fame to Laoshan and raise up their village.
The He Family hopes that tea will be the path to better living for the whole region, and believe a healthy tea industry in Laoshan is the best way to champion environmental protection for Laoshan National Park.
We work hard for our teas.
In the south, mild climates mean easier seasons. Here in the north, we rebuild greenhouses every winter, cut back every summer, and grow soybeans between tea fields as a way to distract insects and to mulch and return nitrates to our soil.
When picking season arrives, we have a short window of perfect weather to hand pick every tender bud .
We hand-finish every leaf in our family workshop. Every 100g of finished tea takes more than a pound of fresh picked leaves. Many of our teas take over 16 hours of craft to get from fresh leaves to finished tea.
We take no shortcuts in our craft because we believe that Laoshan unique climate can produce some of the best teas in the world.
Many importers claim to source from small family farms, but are they actually sharing the stories, values, and point of view of the farmers?
Don't settle for tea of questionable origins. See the people behind the tea and hear the real stories. The He Family and Verdant Tea have been working together for almost a decade. Here are just two videos from our time together:
Ready to try our tea?
Save 10% on any tea in our Laoshan tea collection when you use the special coupon code below in your cart or at checkout through our international partner, Verdant Tea.
LAOSHAN10
Thank you for you kind support!